What comes to mind when you think of
Las Vegas
?
Casinos, gambling, parties...After all, it's not called
Sin City
for nothing!
But, there's always two sides to a coin, right?
Let me take you to a
different
Las Vegas, where
art and culture connect with inspiration and imagination, taking you to worlds of possibility and creativity.
The Arts District
, Downtown Las Vegas, Nevada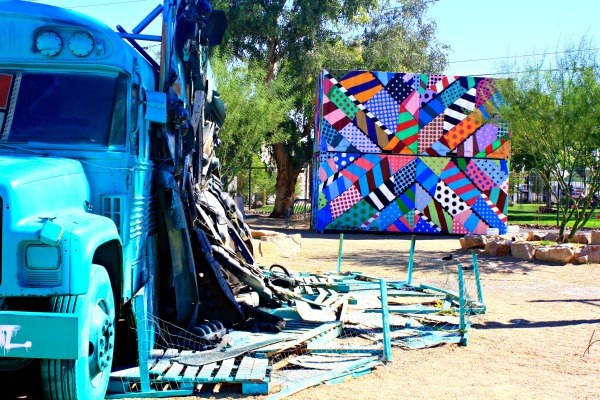 An amazing display of talent and passion, illustrated throughout an 18 block zone, encouraging art and artists to
inspire
,
capture
,
influence
, and
express
.
The Arts District is
a place where the spirit of community and oneness is present
. Artists from different backgrounds make art that expresses a ray of their soul and purpose, and also a small part of their personal story. And visitors and locals immerse in a maze of color and creativity, vision and inspiration, somehow finding pieces of their stories mirrored back.
Isn't that just so fascinating?
That's the magic of art. It has the ability to

mirror back to you what you hold inside

.
We find what we look for.
Has this happened to you?
I think this is true for everyone - when we observe artwork, we bring to it our own experiences and relate those experiences to the artist's use of colors, techniques, and style, finding ways to see and feel something that is familiar to us, connecting our story to that of the artist. It's so fascinating to try and figure out what the artist wanted to express through his artwork. And we do it through our eyes.
It just shows how spiritually connected we all are.
We may see physical and social differences between us, but our spiritual and emotional essence attracts us to one another in more profound ways than we imagine.
I think it's pretty neat that
art brings people together
, and also creates space for some pretty amazing conversations.
And you know what else I love about art?
There's no right or wrong way to make art. There's no right or wrong way to look at art.
art is freedom of self-expression.
The photos in this post are just a small part of the 18-block art display, so I'm hoping I go again soon and explore another area of the district.
But, I'm curious, what does art make you feel? Can you share a specific experience? I'd be so happy to see a little conversation developing in the comments!
For more photos of my trip to the Arts District in Downtown Las Vegas, go to my
Instagram gallery @artisticspring
!
My previous photography blog post is from Calico Basin Red Springs in the Red Rock National Conservation Area where I embark on a journey of overcoming fear in the face of gorgeous marbled red rocks! Sounds fun?!
READ ABOUT IT HERE!
And
here's a link to my e-book
, if you're into easy, 5-minute, healthy indulgences. YUM!
Thank you,
Daniela